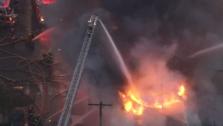 Raging South Philadelphia apartment fire
SOUTH PHILADELPHIA - October 7, 2010 (WPVI) -- A massive fire that tore through a South Philadelphia apartment building has been placed under control.
Crews rescued some occupants on an upper floor. Philadelphia police rushed at least one occupant to the hospital.
There is no word on the severity of their injuries.
The building contained 11 units. Residents claim they heard no fire alarms, but were awoken by police and firefighters banging on their doors to evacuate.
The fire was placed under control at approximately 7:17 a.m.
The Red Cross temporary shelter at the Horace Furness High School had to be evacuated due to excessive smoke. It was relocated to Sharswood Elementary School, located at 2nd and Wolf Streets.
Classes at Furness H.S. are cancelled today due to smoke.
There's no word on a cause of the fire at this time.